Satisfied Customer Stories
"I want to thank you for your prompt and excellent service to purchase my 2 vehicles today. I apprec...

They purchased my junk car and I could not be happier with the prompt, professional sevice. They mad...

"Sturtevant is always my first call when it comes to my used auto glass needs." Kent J&F Auto G...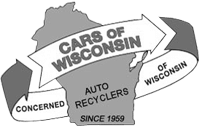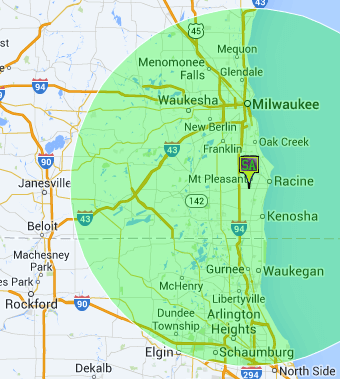 6 Signs You Need New Tires
Replace Your Worn Tires - Just Our Two Cents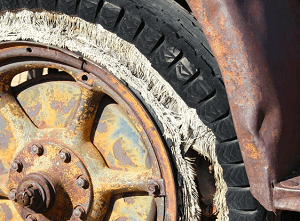 Get New Tires Before Your Old Ones Fall Apart
We all know a penny is useful when performing a budget tire inspection, but Honest Abe isn't telling the whole truth about your tires. There are indicators you can see, and indicators you can feel when gauging the life of your tires. Tires do not wear evenly, and bald tread isn't the only sign of wear. Diagnosing the cause of a worn tire can even help identify larger problems. There are six easy signs to tell if you need new tires, including:
Replacing worn or bald tires doesn't have to break the bank! Buy used tires at Sturtevant Auto today! We have a selection of barely worn tires with plenty of tread.
1. Increased Stopping Distance
Your tires are the only thing keeping your car on the road. Tire tread is essential to the grip that keeps your car from going where you don't want it to go. As your tread begins to wear your stopping distance will increase. This is especially dangerous in Wisconsin as snow and ice already threaten stopping distances.
2. Excessive Vibration
There are a number of reasons your tire might have uneven wear. Poor alignment or a failed strut could leave your tires with scattered bald spots. The uneven wear pattern of your tires might shake and vibrate while driving.
3. Visible Wear Bars
Many modern tires have built in "wear bars." These bars are under the tread, and are only visible past a certain point of wear. If wear bars are visible your tire is unsafe.
4. Cracked Sidewalls
Tread isn't the only important part of your tire. The sidewall is essential to the health of your tires, and can cause a blow out if not treated. Many older tires have small cracks in their surface and are still perfectly safe. If you notice large cracks, more than an inch or two, it's time to replace your tires.
5. Leaks
If you find yourself topping off your tires it means there's a leak somewhere. A leak can be caused by a cracked sidewall, damaged rim or any number of issues. Odds are a leaking tire is old. Odds are an old tire is worn. Odds are a worn tire is dangerous.
6. Steering Pulling to One Side
If you notice yourself pulling to one side as your drive it might be caused by uneven wear on your tires. One side of your tires lack grip, causing the car to drift.
Diagnosing Wear Spots
Uneven wear patterns on your tires can be dangerous. The tire isn't bald, but parts of it are. Much like a bad comb over, a partially bald tire is no better than a spear bald one. Fortunately, uneven wear patterns can be easy to diagnose, and can help you find other problems with your vehicle.
1. Wear Along the Edges of the Tire
If both edges of the tire are worn, but the middle of the tread pattern is not, your tires are under inflated. Insufficient air pressure causes the outside of the tire to bear more weight than the middle, leading to uneven wear.
2. Wear Along the Center of the Tire
If the center of your tire's tread pattern is bald while the outsides are not, your tire is likely over inflated. Excessive pressure bulges the center of the tire, making it bear more weight than the outside.
3. Wear on One Side of the Tire
This wear pattern is caused by misaligned wheels. The tire is rolling at an angle, causing the uneven wear pattern. While this is bad for your tire, it's good for your car as you've identified a larger problem.
4. Patchy Wear
If there are numerous, seemingly random bald patches all across your tire it is likely caused by a failed strut. A failed strut will bounce the tire against the road like a basketball, causing patchy wear.