Satisfied Customer Stories
"I want to thank you for your prompt and excellent service to purchase my 2 vehicles today. I apprec...

They purchased my junk car and I could not be happier with the prompt, professional sevice. They mad...

"Sturtevant is always my first call when it comes to my used auto glass needs." Kent J&F Auto G...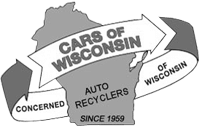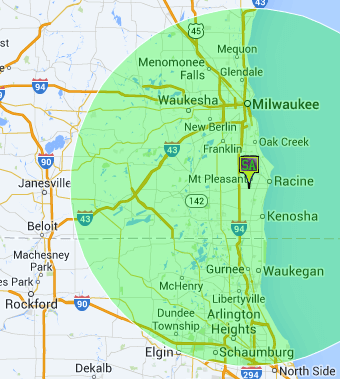 7 Car Body Parts Most Commonly Damaged in Accidents
Used Car Body Parts Make DIY Collision Repair Affordable
Whether you've just been in an accident or bought a used car with some damage, car body repairs are a part of vehicle ownership. When car accidents or minor scrapes happen, there are several body parts which usually absorb the brunt of the incident.
At Sturtevant Auto, we help people find used, undamaged body parts to fix up their ride. Our junkyard near Milwaukee provides parts from most auto manufacturers - and our inventory is constantly changing!
The seven most commonly damaged body parts in car accidents are:
Front Bumper

It makes a lot of sense the front bumper tops our list. Most accidents involve at least one traveling forward and the front bumper is the first thing to receive the impact. Collisions are not the only cause of bumper damage, though. Inattentive driving can result in scraping the sides of a bumper, leaving ugly marks many owners would rather be without.

Fender

Although sometimes confused, bumpers and fenders are different and easy to tell apart. Bumpers are on the front and rear of the car and are designed to protect it from impacts. Fenders are, essentially, the frame of the wheel well. Their main purpose is to catch "road spray" and prevent tires from throwing dirt and debris at other vehicles and pedestrians. Just like bumpers, though, fenders often absorb a lot of the force of any impact. Side collisions, in particular, tend to damage fenders.

Rear Bumper

Nobody likes being rear-ended, but rear bumpers sure get damaged a lot. Whether it's from backing into a post, dumpster or another vehicle or from a minor crash, rear bumpers get cracked, dented and destroyed fairly often.

Be careful when assessing bumper damage. What many people consider the bumper is actually just a plastic cover for the functional part of the bumper. There is a thick foam pad underneath the plastic cover. This layer of foam is actually what protects you in an accident. If you have been in a crash or bought a car with a cracked bumper, you should get the bumper checked. If the foam is still intact, then you can just replace the plastic cover. Otherwise, you should replace the foam too, or the bumper may not function as designed if you are ever in another accident.

Grille

After the front bumper, the next part of your car to be hit from the front is the grille. Designed to let air flow into the engine compartment, grilles are tough, but they do get destroyed in accidents. Fortunately, most drivers swerve to avoid accidents, sparing grilles from more damage than they would otherwise receive. When a grille is damaged, though, it should be replaced for two reasons. First, it may restrict airflow, causing engine problems. Second, it looks bad. People notice grilles right away and a damaged grille can make an otherwise perfect car look awful.

Hood

Our junkyard, located near Milwaukee, provides used auto body parts for great prices!

Hood damage happens for all kinds of reasons. While car accidents are the obvious cause of crumpled hoods, hail and other falling objects can put serious dents in a car's hood. Instead of writing off these imperfections as cosmetic, owners should be careful lest the hood not latch closed properly. If warping or other problems with the hood are preventing the latch from fully engaging, the hood may pop open unexpectedly and could cause an accident or result in serious damage to the rest of the car. Worse, if you are involved in a second accident and haven't replaced your hood, there's a chance it cannot crumple any more and will instead be pushed back into the passenger compartment of the vehicle.

Trunk Lid

Just like the hood, trunks are damaged from a variety of sources. Hail, falling objects, backing into something and getting rear ended all cause trunk deck deformation. If you are ever involved in an accident severe enough to pop your trunk open, be sure to get the latch inspected. As with hoods, an insecure trunk can open while you are driving. Spending a small amount now on a replacement truck deck and latch will save you a lot of trouble down the road.

Front and Rear Doors

Side impacts are the main cause for door damage. Modern car doors are designed to protect passengers inside a vehicle in the event of a collision. There is a surprising amount of engineering and safety built into every car door. For this reason, you should always replace damaged car doors. Safety systems, like the anti-intrusion bar, are located inside the car door, where you cannot see them. If they are not in perfect condition, they will not be able to protect you in an accident.
Milwaukee-Area Junkyard Buys Used Cars of All Conditions
If your car is completely beyond repair, come to Sturtevant Auto – and get cash for your vehicle! No matter the condition of your car, our junkyard will take it off your hands. From a recalled model to a completely totaled wreck, we'll take it.
We will purchase your car from you, even if it's...
Used Auto Parts Near Milwaukee
If your car, truck, van, SUV or other vehicle has any body damage, Sturtevant Auto has the replacement parts you're looking for. We have a huge selection of bumpers, fenders, doors, trunks, hoods, grilles and all other auto body parts from most makes and models. If your car has any glass with chips, cracks or other problems, we also have a wide array of used auto glass for sale, too.
Sturtevant Auto's Used Car Body Parts Inventory Includes:
Don't drive around in a beat-up, unsafe car any longer than it takes you to come to our salvage yard. We're just a short drive south of Milwaukee or north from the Chicago area. Get your ride looking like new with all of its structural integrity intact. Best of all, our used parts cost significantly less than new ones. Get a safer, better-looking car without spending too much by coming to Sturtevant Auto.
Used Car Parts from Most Manufacturers
The Milwaukee area's junkyard carries used auto body parts from most manufacturer makes and models. Whether you need a Toyota bumper or a VW headlight, Sturtevant Auto's auto body inventory is constantly changing. Contact our used auto parts dealer today!
We have used parts for most auto manufacturers, including:
Contact Sturtevant Auto, your source for used auto body parts.