Satisfied Customer Stories
"I want to thank you for your prompt and excellent service to purchase my 2 vehicles today. I apprec...

They purchased my junk car and I could not be happier with the prompt, professional sevice. They mad...

"Sturtevant is always my first call when it comes to my used auto glass needs." Kent J&F Auto G...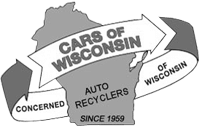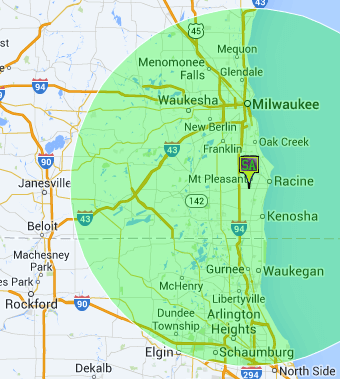 Beware These 6 Signs Your Car Battery is About to Die
You just woke up. You're running late. And right when you need it most—your car won't turn on. You keep turning the key, but your engine isn't starting. It's raining buckets outside and thunder pours on the drama. You could have had an aggressive orchestral track playing to accompany your frustration, but your radio is just as responsive as the rest of your car. It's happened, today is that day: your car battery is dead.
Save Yourself a Headache—Know the Warning Signs of a Dying Battery
Whether you've experienced it or not, we can all certainly agree we never want to be the guy searching "my car battery won't hold a charge" 20 minutes before he needs to be at the office.
Don't put yourself in a position where you are asking for assistance last minute. Knowing whether your car battery is dying (or dead) comes down to 5 telltale signs:
1. My Car's Headlights Are Dim
Driving at night, whether you're taking your children home from practice or on your way to pick up dinner, you need to see what's on the road ahead of you. If your lights are not as bright as you remember them once being, it might be time for you to consider having your battery checked.

No, your lights are not dim because you're braking, they're not dim because you haven't washed your car in a while. Your lights are dim because they're not getting the power they need to be as bright as they could be. It's okay – for now. If you get your car checked out and discover that your battery's charge is too low and cannot be revived, Sturtevant Auto offers used car batteries perfect for replacing almost every car model's battery.

Sturtevant Auto's junkyard in Milwaukee-area services the following auto manufacturers:
2. Your Car Makes a Clicking Sound When You Turn the Key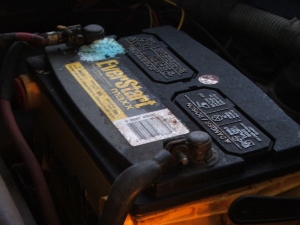 A clicking noise when you turn the key means your battery is either dying or already dead.
This classic moment happens to the best of us. You may not even be in a hurry to get anywhere, but when you turn your key in the ignition and your car only makes a ticking noise, it's a sure sign you've lost your car's battery. You can try turning your key as many times as you'd like, you can even leave your car for an hour and come back to try again, but it will be the same. If your car won't start and all you hear is a clicking noise, your battery is either dying or completely dead.

Your day (or wallet) doesn't have to take a huge hit, however. Wisconsin's Sturtevant Auto offers used batteries available for almost any make or model of car, available to be switched out quickly and efficiently when you need it most.
3. Vehicle Engine Has Slow Crank, Won't Start
One of the most common symptoms of a dying battery is a slow engine crank. When you hear the engine of your car cranking slowly take your car for a checkup as soon as possible. You see, your engine draws amperage from the battery during every start up, and if your battery is close to dying, you may find your car with a slow crank.

If you hear your car making this sound, don't ignore it. You don't want to put yourself in a situation where you can't drive when you need to. If you've already found yourself in this position though, Sturtevant Auto can take any stress away with our used battery parts available for a lower cost than new, expensive batteries.
4. Is a Backfiring Car a Sign your Car Battery is Dying?
Yes, if your car is backfiring, it can be a symptom of a dying battery. Before replacing your battery, check your carburetor and black box. If they both seem fine, which they most often times are, you should get your battery checked out before it dies. When the spark is intermittent, it can cause a buck and make your car backfire when fuel builds in the cylinders. This causes the spark to ignite suddenly and results in the backfiring effect.

If you find yourself facing the expensive purchase of a replacement battery, look no further than Sturtevant Auto. We offer used replacement battery parts for almost all car models, available as soon as you need them.
5. Car Won't Start After Sitting Overnight
This one seems obvious, but often rears its head after you've run through every possible explanation for battery woes and just can't figure it out. It could be a wiring issue or a problem with the battery itself, but the problem is probably the simplest: you left a light on.

You've turned your overhead light on to find change you've dropped, maybe to see which key is your car's, or even to light the pages of a book you're reading—it doesn't matter who or why, it can happen to anyone. You may forget the light is on overnight, or you may not notice it's been on for a week. It can drain your car's battery and leave you without an operating vehicle during the most inconvenient times.

If your car battery lasts an overnight interior light being on, your battery may not need replacing, just remember to turn off your lights. If you left that same small light on, but your car is dead over one night? Your battery is either dead or getting weak. If it's only weak, you may be able to recharge it, but if not, Sturtevant Auto offer used replacement battery parts for your financial convenience.
6. Car Won't Start Unless You Give it Gas
If you find yourself giving the car some gas to make it start, your battery is probably about to die. The car may idle and run normally after you get it started, but you should not have to help it start. The day is fast approaching when it won't start at all. It is possible your battery is simply too small for your vehicle. In either situation, you should replace it immediately.
Before Buying a Replacement Battery, Do This First
If any of the above are true, you should probably get your battery replaced soon. You might be able to save yourself a trip to our junkyard by checking to make sure the battery terminals are connected properly. A weak battery and a battery with loose terminals give off similar signs. If they are loose, then just tighten them up and see if the problem goes away.
Don't Get Stranded. Change Your Battery Before It's Too Late
Getting in your car and turning the key only to hear a rapid clicking noise is a frustrating experience. It can be dangerous if you're stranded in an unfamiliar location during the winter. Fortunately, batteries usually give warning signs when they're about to fail, letting you find a replacement battery before it's too late.
Double Check to Make Sure It's Not the Alternator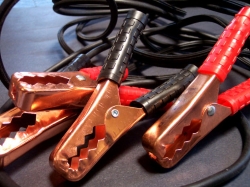 You'll want to keep a set of jumper cables regardless of your battery's charge.
A failing battery and a failing alternator give off similar signs, but there are a two simple ways to tell which is giving you trouble.
If your battery light comes on while you're driving, your alternator is about to go. You have only minutes before your engine shuts off, so pull over immediately.
If the car starts and runs but then suddenly dies, the alternator is broken. You might find yourself jump starting your car repeatedly and blaming the battery, but really, the culprit is your alternator. If you have been jumping your car regularly because of a bad alternator, be aware you have probably drained a lot of time off your battery's life. It's not a bad idea to replace both the alternator and the battery if you've been jump starting the car often.
Some people may tell you to start the car and remove the negative cable from your battery. Under no circumstances should you do this. Many years ago, this trick may have worked, but manufacturers have changed how car electrical systems are designed. Now, your battery is used to short all electrical spikes. If you disconnect the battery from a running automobile, you risk a spike damaging any and all of your vehicle's electrical components, causing a far worse (and more expensive) problem than a failing battery or alternator.
Milwaukee Area Salvage Yard Has Affordable Batteries and Alternators
Whether your alternator or battery is failing, you should get it replaced as soon as possible. It's only a matter of time before you're left stranded in the middle of nowhere or, worse, in heavy traffic with a suddenly dead vehicle. Sturtevant Auto Salvage is the Milwaukee area's choice for low-price, high-quality used car parts, including gently used batteries and like new alternators.
Get Used Auto Parts for Cheap from Sturtevant Auto
Aside from batteries, we have a variety of used auto parts for most manufacturers and models. Replacing any car part can be pricey, but with Sturtevant Auto, you can find the part you're looking for - at a fraction of the cost.







Contact the Milwaukee area's favorite used battery and alternator dealer, Sturtevant Auto, for an affordable way to get your car started.