Satisfied Customer Stories
"I want to thank you for your prompt and excellent service to purchase my 2 vehicles today. I apprec...

They purchased my junk car and I could not be happier with the prompt, professional sevice. They mad...

"Sturtevant is always my first call when it comes to my used auto glass needs." Kent J&F Auto G...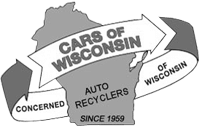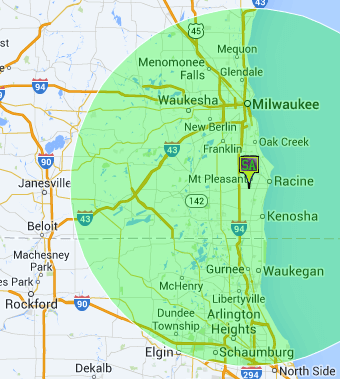 Junk My Car Calculator
Our Offer:
If we pick it up:
If you drop it off:
Price GUARANTEED if your junker is COMPLETE
(No missing parts, no lien, with title)
Quote Valid for 7 Days
Fill out the form below to confirm the price!
We Buy Junk Cars in Wisconsin & Illinois
Sell your Junk Car for WAY MORE Cash $$$
We pay up to $10,000 for your junk, salvage or used car. Convenient pick up within 32 miles of our location between Milwaukee and Racine means getting top dollar for your clunker couldn't be easier. Whether your car runs or not, you can count on receiving the best offer for your vehicle from Sturtevant Auto Salvage.
Even if you end up selling to one of our competitors, we'll probably end up with your junker anyway. How?
Here's how: they lowball you on your junked car, you pay them a price less than fair value, they turn around and sell it to us for a higher price. They pocket the profit.
We want YOU to pocket the profit. Cut out the middleman and get the cash you deserve by selling your junker straight to Sturtevant Auto. You won't find a better offer anywhere else.
Fill Out the Form for Today's MINIMUM Junk Car Offer! →
Sell Your Used Car To Sturtevant Auto Today
You want the most money for your used vehicle. At Sturtevant Auto, we encourage you to shop around. We are confident you will not get find a higher price for your unwanted car, pickup truck, or van than what we offer. Our success depends on winning your business!
We MUST provide the best value to succeed!
Use our junk car value calculator to find out how much your vehicle is worth.
Just remember, vehicle prices can change weekly. To get the most money for your vehicle today, please use the calculator and submit your quote. Prices are valid for 7 days from the date of submission.
Don't see your vehicle listed? Your vehicle has recent upgrades or new tires? Does your vehicle run and drive? Can you get your vehicle to us? Call us today to see if your vehicle is worth more! 262-835-2300
How to Use our Junk Car Value Calculator
Select your vehicle's Year

A new dropdown will appear, letting you pick the Make.

Another dropdown will appear, allowing you to choose the Model.

If you do not see your vehicle's exact Model, pick the closest thing you can find and tell us the precise Model you have in the Message field.

Your minimum price quote will appear, listing both the drop-off and pick up price. For some newer models, you may need to contact us. A message will display stating this is the case.

If you like the amount offered, fill in the Name, Phone Number and Email Fields. Use the Message field to let us know anything extra, like if it has new tires or any recent upgrades we should know about. These may increase the amount we offer.

Select whether you're planning on bringing the vehicle to us or want to schedule a pick up.

Click Submit. We'll get back to you shortly!
Sell Pretty Much Any Junk Car to Sturtevant Auto
Your car could literally have been on fire twenty minutes ago and we would still pay you for it. That's not a joke, either. We buy used and damaged cars, pickup trucks, and vans for cash. No matter how old or damaged your vehicle is we'll pick it up and pay you for it. Letting it rust in the driveway is a waste and an eyesore.
Paying someone to haul it off makes no sense. We'll buy your car, van or truck even if it's:
Contact Sturtevant Auto right now to get an estimate of your car's value. It couldn't be easier – let us know what kind of car you have (or had) and we'll give you an estimate. Then, call around and call us back because we're the best offer you'll find. If it drives, bring your car on over. If it's a flaming wreck, we'll come to you, pick up your junker and give you cash. It might be the easiest money you'll ever make.
Get Cash Fast by Selling your Junk Car to Sturtevant Auto.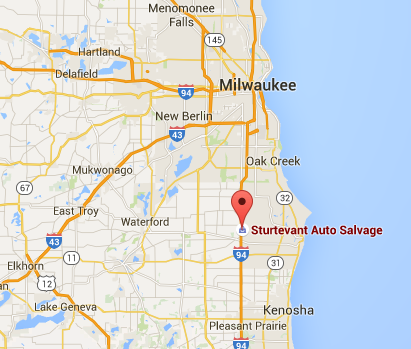 Click here for driving directions to Sturtevant Auto.
When you sell your used car to a dealer, the trade in credit you'll get is probably far less than the cash we'll pay for your vehicle, running or not. Selling your junk car through a middleman is an even worse option. You need the best cash price for your junk car and Sturtevant Auto pays the most cash for junk cars in Milwaukee's metro area.
We'll pay cash for any car, pickup truck, or van and offer fast, easy pick up of most vehicles within 35 miles of Sturtevant Auto's location in between Racine & Milwaukee.
If you can't piece together a full vehicle, give us a call anyways. We buy damaged, totaled, non-working, incomplete and other unwanted cars for more than you'll get elsewhere. We are the auto salvage experts; we'll help you get the most money for your junk cars near Milwaukee, Racine, Kenosha, Waukesha, and the surrounding areas.
Before You Call for Wisconsin Junk Car Removal Service:

Let our auto salvage specialists do the hard work for you. We will take care of all the necessary paperwork. There are no third parties to work through. You'll deal directly with Sturtevant Auto the entire time to make the process as quick and easy as possible. You want cash for your junk car fast and we'll be right out to pick it up. Be ready to provide Sturtevant Auto with your junk car's make, model and year, and gather up the following items:
Title
Car keys
Registration
Insurance
Any other paperwork proving ownership
Missing some of those items? Don't worry. If you're missing any of the above, give us a call and we'll help you figure out what to do next. Remember, Sturtevant Auto wants junk cars as badly as you want to get the most cash for your junk car (and get it off your lawn)!
No Title? No Problem! We Buy Junk Cars Without a Title
Got an old, useless clunker taking up space in your yard or garage? Selling the junk car can be a chore, especially if you don't have a title for it. Title or not, we will take care of it. Under certain conditions, we will buy a non-running car without a title. Call or email our scrapyard professionals for a free quote on your junk car with no title.
Best Auto Salvage Service in the Milwaukee area Pays Cash for Clunkers – Every Year!
Whether it's 2009, 2012, 2015 or 2025, Sturtevant Auto is always paying cash for clunkers. We really do offer the best auto salvage services in the Milwaukee area. Regardless of your car's condition or damage, we'll buy it from you.
We even buy non-running cars, pickup trucks, and vans.
Whether you have a non-functional Jeep 4x4, a wrecked Honda Accord or a totaled 4WD Subaru Forester, we will buy it. We serve a huge number of locations throughout Southeastern Wisconsin. If you're within a 35-mile radius of our salvage yard between Milwaukee and Racine, we offer convenient pickup service of your unwanted vehicle!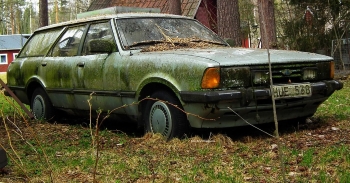 Get cash for your junk car at our pick and pull salvage yard in Sturtevant, WI.
We Buy and Sell Used Cars
Because we buy used cars in addition to junk and salvaged ones, we actually maintain an inventory of low priced, fully functional vehicles.
When you're car shopping on a budget, give us a ring.
We sell the best quality used cars at very affordable prices. Whether you're trying to buy a used GM Chevy, Hyundai, Nissan, or any other make and model, we will give you the best deal available in Metro Milwaukee!
For a price quote or other assistance regarding selling or buying used cars in Wisconsin please contact Sturtevant Auto's Racine area junk yard: 262-835-2914.
Sturtevant Auto Salvage Yard's 35-mile Junk Car Pick Up Service Area
If your car is not working or damage has made it unsafe to drive, don't worry. We offer convenient junk car pick up within 35 miles of our location just outside Racine.
If you live outside our pick up area, please give us a call and we may be able to work something out.
Get Cash for Junk Cars, Even Damaged, Wrecked, Totaled and Non-Functional Ones
Sturtevant Auto Salvage Yard provides unbeatable deals on used cars and auto parts. We're able to do this because we are always buying cars. Many vehicles are declared a total loss by insurance companies even though they're still functional and have many good parts in them. We offer cash payments for these cars and then sell the usable parts.
This means we buy any unwanted car, regardless of the damage, even if it's non-functional and undrivable.
We're your go-to junk yard when your car is no longer working or requires too much mechanical work to make repairs worth it. If your rebuild or restoration didn't go as planned and you're stuck with a half-fixed car and a lot of random parts, give us a ring. We'll be right over to pay you for your vehicle and cart it away for good.
We Buy Any Make or Model Car
We are experts in all things salvage and can handle every make and model car, van or truck. While we most commonly work with Chevy, Chrysler and Ford domestic cars and Honda, Hyundai, Kia, Nissan, Subaru, Toyota and VW, we buy any and all vehicle makes.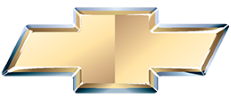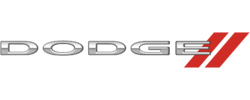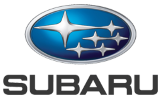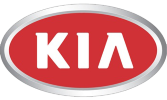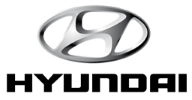 Whether your car is in perfect working order or currently functioning as a lawn ornament, we will offer you the best cash deal to remove it. Either drop your car off at our pick and pull junkyard or schedule a pick up. Our junk car removal specialists serve all of southeastern Wisconsin. With our 35-mile pick up radius, you do not have to leave your home to get cash of your junk car.
Sell your Used Supercar or Supercar Parts
It can be tough to get rid of a beloved V8 supercar, even if it's totaled, rusted, or otherwise trashed. With Sturtevant Auto, you'll know you're getting the best price possible, whatever the car's condition. We will take your supercar—or any salvageable parts—off your hands and put money in your pocket.
We buy and sell used supercars and parts including:
Jaguar
Porsche
Lamborghini
Alfa Romeo
Lotus
Honda NSX
Dodge Viper
Ferrari
Aston Martin
Maserati
Audi
Ford GT
Nissan GT-R
Porsche 911
Acura NSX
Corvette
Buy Used Supercar Parts for Less
You don't own a supercar for the affordable price – it's pretty obvious. Sturtevant Auto is the perfect place to purchase used supercar parts. We will never sell you a defunct or non-working part. If you need to get the Corvette road-ready or just need to get your Alfa running, give us a call at 262-835-2300 today!
Buy or sell your used supercar parts.
Paying Cash for Junk Cars Lets Us Sell Used Auto Parts for Your Repairs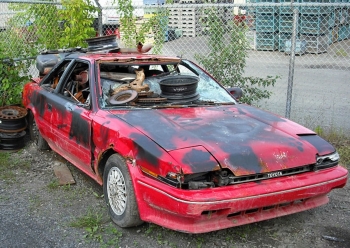 Milwaukee-area salvage yard pays top dollar for junk cars of all makes and models.
Some people wonder what we do with all the junk cars we buy and why we offer such a great cash price for them. The reason is we sell the used auto parts from the cars we buy. Maintaining a massive inventory of used parts requires a steady stream of donor junk, salvage and used cars.
Sturtevant Auto Salvage Yard Wisconsin provides you unbeatable deals on used cars and auto parts. Whether you want to get rid of your junk car or buy a quality used car, we provide many options at unbeatable prices. In this crazy Wisconsin weather, you must get the right car parts to prevent weather related accidents and other damage. Rely on the specialists at Sturtevant to help you get exactly what you need, at affordable prices. Getting used transmission and car batteries is more economically efficient than repairing or buying new ones. Sturtevant Auto Salvage is the only place to give you quality used auto parts for your car's make and model. Turn to our car parts when you're looking for a cost-efficient way to repair your car. We carry a wide variety of used car motors, batteries, used tires and rims for cars, trucks and minivans. Chevy, Chrysler, Ford, Honda, Hyundai, Kia, Nissan, Subaru, Toyota and Volkswagen make up a large portion our car parts inventory. Our professionals will find you the right car parts to last a long time and even offer a 90 day warranty! Turn to Sturtevant Auto Salvage for the best used car parts in Wisconsin.
We're your go-to junk yard when your car is no longer working or requires too much mechanical work to make repairs worth it. Feel free to ask us questions about paying taxes on an unusable car; we are experts in all things salvage. We most commonly work with cars including Nissan, Toyota, Volkswagen and GM Chevy. Sturtevant Auto makes it possible to get the most bang for your buck on your used car. Whether your car is in perfect working order or currently functioning as a lawn ornament, we offer you your best cash on hand deal. Either drop your car off at our junkyard or schedule one of our specialists to come pick it up. Our specialists serve all of Southeastern Wisconsin. Our 35-mile pick up radius means you do not have to leave your home to get rid of your junk car.
Call Sturtevant Auto today at 262-845-2914 for a free estimate for your junk car.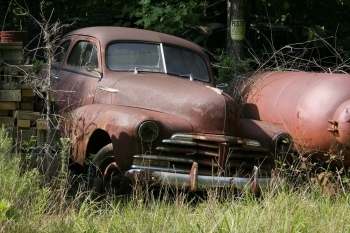 Sturtevant Auto boasts a wide supply of available junk cars for sale and cheap used auto parts.
Junking a Car without a Title: What You Need to Know
When you're sick of your useless car or van sitting in your garage or yard, Sturtevant Auto Salvage Yard gives you cash on hand in exchange. In Wisconsin, it is legal to sell a car even when you've lost the title. We MAY junk your car if you prove your previous ownership with documentation.
To Donate or To Salvage? An Easy Question
Donating cars has become commonplace, but many people are unaware of the numerous scams posing as car donation programs. While there are reputable car donation charities, a majority are scamming you. They'll take your car only to sell it to a junkyard for profit. A great alternative to donating your car is selling it for salvage. Take the money the junk yard pays you and give it to any charity you want, not just ones accepting used vehicles. Get cash for your car at Sturtevant Auto to avoid scams and hassles while still benefiting charity.
Fluctuating Salvage Prices: What You Need to Know
The price of steel and other metals is constantly changing. This, in turn, causes salvage yard prices to change. Sturtevant Auto always offers top dollar, but we strongly recommend bringing your car in (or having us pick it up), shortly after getting a quote. Since prices change from day to day, we can't guarantee you'll get the same price in a week. Here's a more in-depth explanation of why junk car values change.
Selling a Car on Craigslist Is Not the Quick Cash Approach
Posting anything on Craigslist is a crap shoot. You either have an excellent experience, or are left with a massive headache and many wasted hours. Especially when selling something as big as a car, expect haggling and a lot of time spent waiting for no-shows. By selling your car to our local salvage yard, you are guaranteed to get the most cash, without the hassles and drama of Craigslist. We give you exactly the amount we quote and usually pay you within 24 hours of you calling in a pick up.
Knowing When It's Time to Junk Your Car
It's not easy to part with your old friend. Your old, rusted Dodge Stratus has led you down the road of life through thick and thin, and the thought of parting with it seems like too much to handle. At some point, you just have to let it go, especially if its bumper is dragging on the ground or if you get wet when it rains.
Or, you're sick of the hulking mass of junk. You just want to get rid of the thing and get as much cash as you can for it.
Either way, Sturtevant Auto is just who you need to call. We'll pay the best price for your non-running, totaled, damaged, burned, or unwanted salvage car. We'll turn your old junker into a perfect new car for a 16 year old or valuable replacement parts for models that are still hanging on to their last years.
We Buy More than Just Cars: Sell Your Totaled SUV for Cash
If your crossover or SUV is on its last legs, you can recycle the unwanted vehicle. Bring it to our salvage yard to get the best cash offer in southern Wisconsin and northern Illinois. If your SUV has driven its last mile, we'll pick it up for you. Either way, you're guaranteed to get a competitive offer on your old sport utility vehicle, crossover.
Call our Wisconsin auto salvage specialists for more info on junking a car without a title.