Satisfied Customer Stories
"I want to thank you for your prompt and excellent service to purchase my 2 vehicles today. I apprec...

They purchased my junk car and I could not be happier with the prompt, professional sevice. They mad...

"Sturtevant is always my first call when it comes to my used auto glass needs." Kent J&F Auto G...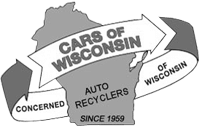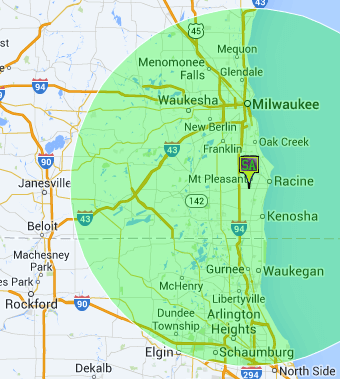 Used Tires in Wisconsin
Discount Used Tires near Milwaukee
SALE: All Tires $20 (excluding sets)
Used tires from auto salvage yards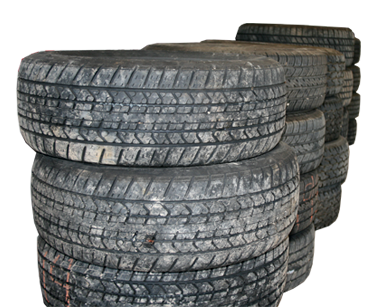 often arrive in excellent condition, despite damage to other parts of the vehicle. Sturtevant Auto Salvage buys used and disabled vehicles, providing a diverse inventory of used tire sets at an exceptional discount. Our discount used tires fit almost any vehicle make or model, delivering great treads at low prices. Whether you need four tires for a Chevy Malibu, two wheels for a Volkswagen Golf or one tire for a Ford Explorer, we have just what you're looking for. These quality, low mileage used tires for sale are the perfect alternative to expensive new tires. Improve your vehicles ride quality and even your gas mileage with our durable used tires. We even offer replacement lug nuts and wheel axles. Because we're constantly buying junk cars, we have a steady supply of used tires available, ensuring you'll find just what you need.
Worn or bald tires present an extreme driving hazard and require replacement immediately. Driving with bald tires on a Nissan Maxima or other vehicle can and will make you hydroplane during rainy road conditions, sending your car sliding out of control. Balding is also the result of thinning rubber mass on your tires, so even on bone dry Wauwatosa summer days these tires are vulnerable to catastrophic blowout. Properly treaded and maintained tires ensure your vehicle is as safe as possible. Worn out tires on Honda Civics and other cars decrease braking performance and lower your gas mileage. Properly treaded and inflated tires ensure your car performs safely and optimally in all conditions and our assortment of quality, low mileage tires are a great alternative to new tires.
Your Tire is Punctured. Do You Need to Replace All Four?
You ran over a nail right near the sidewall of your driver's side tire. You've taken it to a handful of local shops, but they won't get anywhere near the thing because it's virtually irreparable. Now you've got 3 good tires and all of your gearhead friends are telling you it's a bad idea to replace just one tire.
However, it isn't always a bad idea if you've got budget constraints (don't we all?). In some cases, you don't really need to replace all 4 tires at once.
Tire Salvage is Your Salvation
Whether your current car needs a set of quality tires or your old scrap heap still has a good set, Sturtevant Auto is interested. Tire tread is king in Wisconsin and Illinois winters, so don't wait to get a grip on the road—and don't overpay for brand new tires.
We buy cars in all conditions, but we get plenty of post-collision vehicles. Many of these cars still have perfectly road-worthy tires, so we pay top dollar to get the car, truck or SUV onto our lot and its tires on your ride. You save on our huge stock of quality OEM parts and gently used tires. If your car has been in a wreck, chances are we want it. Come see how much you can get for your old junker or wrecked vehicle.
Car Tire Replacement Guidelines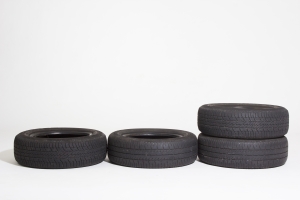 Tire treads require an absolute minimum depth of 1/16th of an inch to function in wet conditions. To test your tires, insert a penny between the tire treads with Lincoln's head upside down. If the very top of the president's head is at all visible, your tires are long past due for mandatory replacement. The best solution for replacing your worn out tires is to save money by purchasing safe, used tires. Be sure to check all four car tires from multiple points on the tread. Bald tires are not only dangerous; they're illegal, resulting in fines and failed safety inspections. These fines may be more than the cost of replacing the tires. With the potential dangers of lost vehicle control and citations from law enforcement, there is no excuse to drive with dangerously bald tires.
Brand Flexibility Means We've Definitely Got the Tire for Your Car
Trying to fit the windshield of a Toyota Tacoma on a GMC Sierra just isn't going to work. Good luck fitting a transmission of an F150 into a Chevy Cavalier.
However, tires work differently. There's greater compatibility among different models fo cars and trucks, putting us in a unique position to find the tire you need for the lowest price. You aren't stuck paying top dollar for a specialty part. Our massive supply of surplus tires for sale means we've got tires compatible with many popular brands and sub-brands, including:
...and many, many others.
High Quality OEM Replacement Tires
Your vehicle was designed to run on a specific kind of tire. Playing around with cheap aftermarket tires can be a risky game. You're best off finding OEM replacement tires for when your tires get punctured, wear down or go flat.
Sturtevant Auto near Milwaukee, WI boasts a massive inventory of replacement OEM tires for many of the most popular (and not so popular) brands and sub-brands of cars and trucks. And they're not expensive. You'll find our OEM tires to be more affordable than aftermarket parts you'll see elsewhere.
Used Truck Tires in Great Condition
Tires are one of the most important parts of your truck and they ensure that you and your vehicle keep moving forward. Truck tires are also one of the parts that need to be replaced most often, so why not go the affordable route. The used truck tires at Sturtevant Auto are a great way to save money and help the environment, without skimping on quality. We offer a variety of options for you to choose from including single tires, pairs, and full sets for your truck, car, or SUV. At Sturtevant Auto we have a huge selection of great looking used tires that you can trust. So whether you are in need of all-season, all terrain, snow, or performance tires we can find you just what you're looking for. We offer high quality used tires from all the leading car manufactures including Chevy, Ford, and Dodge.
Guidelines for Buying Used Rims
It is important when buying used rims to make sure the rims are unbent. To test for bends, spinning a wheel on a wheel balancer is the best way to see if the rim is in good condition. There are two bends to look for in a rim. A radial bend is when the wheel is bent around the radius, resulting in the tire to hop when being spun. Wheels can be 100% usable after a radial bend is removed. A lateral bend is when the spokes of a wheel are bent. This bend will show when being spun by causing the tire to wobble side to side. These bends are not repairable, rendering the rim completely unusable. At our auto salvage yard, you will likely be able to find high quality rims at a low price.
Used Tires for Sale from our Racine Junkyard
Sturtevant Auto's used tires let you avoid stiff fines and the even stiffer cost of brand new replacement tires. We stock only quality tires passing our detailed safety inspection. Don't pay $600 for new tires almost indistinguishable from six month old tires. Buy used tires from our Milwaukee area junkyard to start driving safely without emptying your pockets.
SALE: All Tires $20 (excluding sets)
The best deals on Racine- and Milwaukee-area used tires come from Sturtevant Auto Salvage on I-94, just south of 7 mile fair.
Visit our Milwaukee-area auto salvage yard for the best selection of used tires and start driving safe for less.
Llantas usadas de coches gastadas
Las llantas clavas son peligrosos e ilegales. Sturtevant Auto tiene la mejor oferta: todas las llantas son $20 (excluyendo conjuntos).Tenemos 11 acres llena de coches con OEM llantas usadas. Nuestra gran variedad de maracas, incluyes Chrysler, Honda, Kia, Toyota y muchas más. Llantas correctamente pisadas asegurar que su vehículo es lo más seguro que puede ser.
¿No sabe qué tipo de llanas necesita? Tenemos una guía para decidir cualquier tamaño de llantas su coche necesita. También tenemos una variedad de piezas de coches por casi todos los fabricantes de carros. Y compramos autos usadas por más efectivo de cualquier lugar en Wisconsin o Illinois.
Contacta la mejor chatarrería en Milwaukee, Sturtevant Auto Salvage Yard, para buscar llantas económicas hoy.