Satisfied Customer Stories
"I want to thank you for your prompt and excellent service to purchase my 2 vehicles today. I apprec...

They purchased my junk car and I could not be happier with the prompt, professional sevice. They mad...

"Sturtevant is always my first call when it comes to my used auto glass needs." Kent J&F Auto G...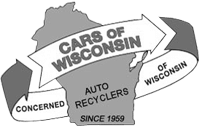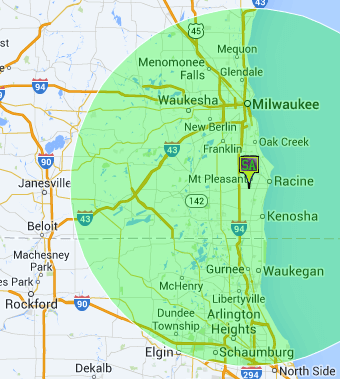 Used Auto Glass
Used Auto Glass for Sale just south of Milwaukee
Cracked, shattered or chipped auto glass is ugly and a potential safety hazard. It is also illegal to drive in Wisconsin with a noticeably cracked or shattered windshield. Fortunately, Sturtevant Auto Salvage Yard, located between Milwaukee and Racine, constantly buys used, junk and salvage vehicles to maintain a huge selection auto glass for sale at unbeatable prices. Windows, windshields and all auto glass pieces are available for major import manufacturers like Toyota, Subaru, Honda, VW and Kia and domestic cars including Ford, Chevrolet and Chrysler. Our massive inventory of salvage cars has the auto glass to fit almost every make, model and year. Don't waste money on expensive, new auto glass for a 2000 Ford Taurus when there's a source of quality, low price, used glass so close to Milwaukee. Come on over to Sturtevant Auto and drive off with money in your pocket and new-to-you auto glass on your car.
Windshields, Windows and Other Auto Glass at Pick and Pull Junkyard
The Milwaukee area's best pick and pull junkyard has a tremendous selection of used auto glass, including windshields and windows. Cars, trucks and vans with perfect, intact glass are waiting for you at Sturtevant Auto. Our pick and pull format means you can walk our acres of junk cars, looking for the auto glass you need to replace your broken window, cracked windshield or smashed sunroof. Whether it's the sunroof of a 2003 Toyota Camry, windshield on a 2000 Chevrolet Blazer or a rear window on a 2006 Nissan Titan, there's a piece of replacement auto glass at Sturtevant Auto waiting to be installed in your car. If you'd rather not cut the glass out by yourself, our helpful staff is always available to pull the piece you need. Get your replacement auto glass from Sturtevant Auto to receive top quality car windows and windshields at prices you can afford.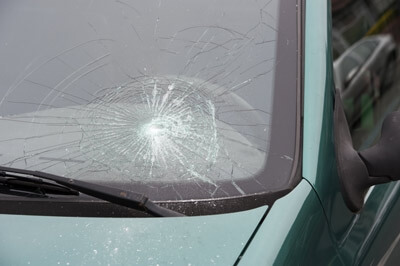 We've got replacement windshields for your old junker.
Find OEM Replacement Windshields at our Wisconsin Junk Yard
If you're looking for cheap, used replacement parts, you may have already mentally written off getting an OEM replacement for your broken windshield. However, due to regulations barring exact reproduction of OEM parts, aftermarket windshields simply cannot legally comply with your vehicle's basic requirements.
Your best bet is a used OEM windshield. You have no better chance at finding a lower price for used OEM parts than at our massive auto parts yard at Sturtevant Auto. If you're looking for OEM parts for your Hyundai Elantra or Subaru Forester, come down to our pick and pull junkyard. We've got what you need. For the lowest price.
Replacement Auto Glass for Pick-Up Trucks
A cracked or damaged windshield can be a really big setback for your day. The damage can range from a small crack to an entire shatter and will determine if you can repair it or if you need to replace the entire window. Why pay full price to replace just one of your truck windows? Let the professionals at Sturtevant Auto help you find an affordable replacement for any of your trucks windows. We offer a wide selection of used auto glass for trucks to choose from. We can help ensure that your truck will be looking brand new again before you know it.
We have a variety of used auto glass for most auto manufacturers, including:
Cracked Windshield Replacement: Necessary and Surprisingly Affordable
A damaged windshield can be a real safety concern for you and your passengers. Windshields are an essential part of your vehicle's safety system. They do more than just let you see out of your car.
Windshields actually support the roof in case of a rollover accident and assist in side airbag deployment.
If you have a spider web windshield crack or a smashed rear window, come to the auto salvage experts and replace your auto glass before it's too late. Damaged windshields happen quickly and can be expensive to repair. Come check out our wide selection of auto glass for everything from a 2003 Honda Civic to a 2014 Ford F-150 and get a replacement and save on repairs.
Types of Broken Windshields
Cracked windshields happen for a variety of reasons and auto glass in general is prone to a wide range of damage types. Regardless of whether you drive a car like a 2009 Volkswagen Jetta, a van like a 2001 Toyota Sienna or a sturdy truck like a 2012 Dodge Ram, it will be exposed to many damaging situations. Road debris is kicked up constantly on the roads of the Wisconsin highway system and the variable temperatures in the Midwest can cause sudden cracks. Auto glass damage can take on many forms, including:
Chip — Small pebbles thrown by the wheels of semi-trucks at high speeds take chunks out of your windshield.
Bullseye — Similar to a chip, but encircled with cracks to form the familiar dartboard pattern.
Spider Web Crack — A series of cracks radiating from a center point, but does not form a circle.
Shattered by Vandalism or Theft — As much as we love Wisconsin, we know that this isn't a perfect world. If you've had property stolen, chances are you don't want to shell out cash for replacement windows. A piece of cardboard or garbage bag isn't doing you any favors, though.
Stress Crack — These are the most structurally severe. They are usually caused by rapid temperature fluctuations, like using hot water in a carwash in January or cranking the AC on a super-hot July afternoon. They can also originate from a manufacturer's defect. They have no sign of impact and are usually straight. Stress cracks usually cannot be repaired.
All of these types represent integrity loss of your auto glass and a major safety hazard in an accident. Before you shop around for auto glass repair, come to Sturtevant Auto's salvage yard and find an inexpensive solution to fixing the windshield of any vehicle, including a 2001 Chevy Malibu, 2006 Kia Sedona or 2010 Subaru Forester.
Recycle Your Used Car Today
At Sturtevant Salvage, our auto glass doesn't fall from the sky. We need your junk cars to continue providing quality OEM auto glass for our customers. We thrive on inventory, maintained by purchasing junk cars for more cash than anywhere else in southeast Wisconsin or northern Illinois.
We buy junk cars, no matter the condition of your vehicle, even if it's:
South Milwaukee-Area Used Auto Salvage Yard
Sturtevant Auto carries other used auto parts for affordable prices. Aside from used auto glass, we have a variety of parts for most car manufacturers. Our inventory is always changing - give us a call before you come and visit!
Check out our junkyard's used auto parts for cheap:






Reemplazar sus parabrisas con parabrisas de OEM usados
Parabrisas roto o dañado no es seguro para su y sus pasajeros. Parabrisas son un parte esencial del sistema de seguridad de su coche. Hay muchísimas tipos de parabrisas rotos, como una viruta, una grieta de la tensión o parabrisas destrozada del vandalismo.
Hay muchísimas tipos de parabrisas rotos, como una viruta, una grieta de la tensión o parabrisas destrozada del vandalismo. Nuestros expertos pueden determinar si es necesario a arreglar o reemplazar su parabrisas. OEM parabrisas usadas son las mejores parabrisas y en Sturtevant Auto nosotros tenemos las más baratas. También tenemos cristal remplazar para autos para camiones.
También tenemos una variedad de piezas de coches por casi todos los fabricantes de carros. Y compramos autos usadas por más efectivo de cualquier lugar en Wisconsin o Illinois.