Satisfied Customer Stories
"I want to thank you for your prompt and excellent service to purchase my 2 vehicles today. I apprec...

They purchased my junk car and I could not be happier with the prompt, professional sevice. They mad...

"Sturtevant is always my first call when it comes to my used auto glass needs." Kent J&F Auto G...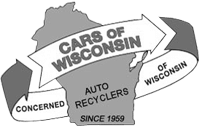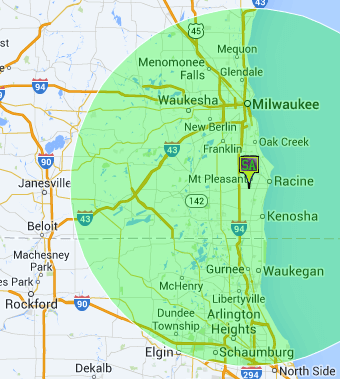 Used Rims
Buy Used Rims and Save Big at Wisconsin's Best Salvage Yard
Beat up rims take away from the aesthetic appeal of your vehicle. Aside from the eyesore they cause, damaged, bent or cracked rims lead to serious problems with your vehicle's overall performance. Damaged rims on a 2003 VW Golf or other car will significantly decrease gas mileage, tire life and can contribute to a total tire blowout. Do not put yourself, your car and other motorists at risk by driving around with damaged rims. Sturtevant Auto Salvage Yard, where Milwaukee area resitents go for used car parts, has a wide variety of used rims for 2004 Subara Impreza and other makes and models for sale at great prices. We buy salvage and junk cars for top dollar, ensuring we always have acres of junk cars ready to donate their perfectly good rims to your car. Rim repair can be a long, expensive process, and buying a new set of rims gets expensive fast. Do the smart thing and buy used rims instead. Drive on down to Sturtevant Auto, just south of Milwaukee, and get exactly the used rims your car needs at a price you'll love.
Milwaukee area Pick and Pull Junkyard Sells Used Rims
Replacing the rims on your car does not have to break the bank. Sturtevant Auto has a massive selection of salvage cars and trucks. You're bound to find the right sized rims for a 2001 Toyota Tacoma, 2009 Kia Forte, 2004 Chrysler Pacifica or other car in our 11 acres of junk vehicles. Car tires fit on rims ranging from 0.5" thinner than the manufacture's specification up to 1.5" thicker. Damaged rims can be replaced and upgraded using used, donor rims for far less than new rims would cost. Trade your boring rims for aftermarket, exotic rims found on the junk cars sitting in our salvage yard. From fancy rims for a sporty 2011 Hyundai Sonata to tough, rugged rims for Ford F250 trucks, Wisconsin's best pick and pull junkyard, Sturtevant Auto has exactly what you're looking for.
Inexpensive Replacement Truck Rims
Truck rims are an inexpensive way to enhance the look of your vehicle, but brand new rims for your truck can cost you an arm and a leg if you order them from your dealership. At Sturtevant Auto, our rims are in great condition and can also fit in your budget. Our staff can help you locate the perfect set of used rims to really ensure your truck stands out. Whether you need to replace all four of them, or just one, come check out our wide selection of pick and pull options. If you just can't find what you're looking for our friendly staff will be happy to help you find just what you need. We offer a variety of other related products to keep your vehicle looking sharp including center caps, hubcaps, alloy wheels, and wheel covers. If your rims are damaged or you just want an upgrade, Sturtevant Auto is your one stop shop.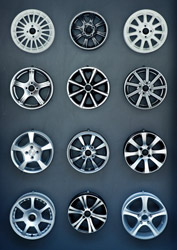 Find cheap used rims at our pick and pull junkyard.
Browse our Wide Stock of OEM Replacement Rims
If your rims are bent or dented, you've got to get them fixed or replaced. Chances are, you're looking for something on the cheap and don't necessarily care about how it gets done. Aftermarket? OEM? Whatever.
However, installing OEM parts guarantees you've got the right parts for your make and model. The likelihood of structural damage from nonconformity is all but eliminated. Sturtevant Auto gets you the very best prices for OEM replacement rims for your vehicle.
Avoid Bent Rim Repair Costs by Purchasing Used Ones from Us
So you hit a curb and bent your brand new Enkei rim. Maybe you need a set of winter rims to save the set of BBS' on your 2013 Volkswagen GTI. Sturtevant Auto salvage has the best solution to keep more of your money in your wallet.
You don't need to pay top dollar to get a set of rims. We've done the hard work of buying used, wrecked, totaled and unwanted vehicles so you can harvest the used wheels at a fraction of the cost of new. Come and browse our 11-acre lot to save on your wheels today!
Used Auto Parts form Milwaukee area Salvage Yard
Don't settle for ordering new, when it can cost you a fortune. Sturtevant Auto carries a variety of used auto parts for great prices! Whether you need a windshield replacement or better tires, we have a whole selection of parts for purchase.
Contact Wisconsin's used car rim dealer, Sturtevant Auto, for an affordable solution to your wheel problems.
COME GET ANY AUTO PART FOR CHEAP:







Llantas usadas por su coche
Si las llantas de coche están doblados o abollados es necesario para repararlos. Una opción barata no significa una mala calidad. Sturtevant Auto tiene OEM (fabricantes equipos de originales) que son en buenas condiciones.
No pierdas el tiempo ordenado llantas nuevos, ahorren dinero y tiempo con Sturtevant Auto. Tenemos las mejores llantas usadas en Wisconsin. Ven a nuestra chatarrería hoy y busque nuestros once acres llenos de llantas OEM y más.
También tenemos una variedad de piezas de coches por casi todos los fabricantes de carros. Y compramos autos usadas por más efectivo de cualquier lugar en Wisconsin o Illinois.