Satisfied Customer Stories
"I want to thank you for your prompt and excellent service to purchase my 2 vehicles today. I apprec...

They purchased my junk car and I could not be happier with the prompt, professional sevice. They mad...

"Sturtevant is always my first call when it comes to my used auto glass needs." Kent J&F Auto G...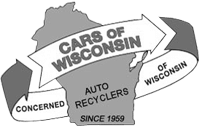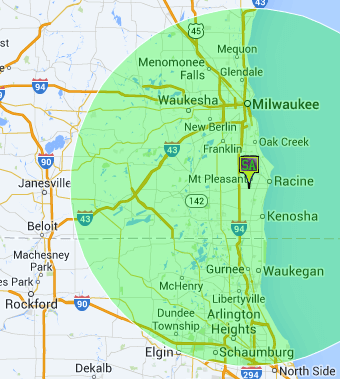 Used Car Batteries
Used Car Batteries for Sale at Great Prices between Racine and Milwaukee
Sooner or later, your car battery is going to wear out and you might be stranded somewhere waiting for a jump. Especially in winter, dead and malfunctioning car batteries are increasingly common. Don't wait to be stranded with a dead battery. Instead, come to Sturtevant Auto Salvage and buy a gently used battery at an affordable price. Our salvage yard has hundreds of used batteries for most makes and models because we never stop buying used, salvage and junk cars. If your battery is several years old, you should not risk it suddenly dying on you. Take the short drive down to Sturtevant Auto Salvage Yard and replace your old battery with a used one and know your car will start reliably for years to come.
Whether your 2004 Subaru Outback has a stratified battery or your 2007 VW Golf's battery just died after years of use, we can help get a quality used battery back in your vehicle. No more jump starts or getting stranded at the grocery store, a battery from our auto salvage yard will keep your car running for years. Save money and get your vehicle back on the road with a used battery from Sturtevant Auto Salvage Yard, located just south of Milwaukee.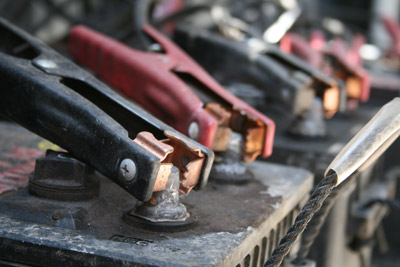 Pick and pull used batteries from our junker cars and trucks.
Milwaukee Area Pick and Pull Junkyard Has Huge Used Battery Selection
Many cars involved in car accidents in southeast Wisconsin are totaled. The extensive damage may render the auto inoperable, but often the battery is fully intact. Sturtevant Auto's 11 acres of junk cars is filled with gently and barely used car batteries. There are many different battery sizes and our large selection lets you find exactly the battery your car needs. Whether you drive a 2002 Ford Taurus or 2007 Nissan Armada, Sturtevant Auto has the battery you need at a price you can afford. Besides our huge selection of OEM batteries from car makes and models including VW, Chrysler and Chevrolet, we also have a wide range of aftermarket car battery brands for sale. Brands like DieHard, Interstate and Duralast are all available in different sizes and CCA ratings, ready to be installed in your car.
How to Know if Your Car Battery is Bad
1. If your engine cranks when you turn the key, but the car doesn't fully start.
2. Sometimes the car starts just fine. Others days, it doesn't start at all.
3. It's difficult to start the car in cold temperatures.
4. You've needed to jump it several times to get it started.
If you're experiencing any of the above car battery issues, it's time to contact Sturtevant Auto in South Milwaukee for a battery replacement!
Car Battery Died: Now What? Replace your Dead or Failing Battery with a Used OEM Battery
Nothing beats the parts designed by the manufacturer to go in your vehicle. When replacing your car's dead or dying battery, there's no reason risk it with an aftermarket part. Sturtevant Auto has 11 acres of cars with hardly used OEM batteries for sale. Your other choice for OEM batteries, going to the dealer, is going to be very expensive. Don't sacrifice quality for price. Take the short drive to our massive auto salvage yard and pick up an affordable OEM battery for your vehicle.
Truck Batteries: Buy Lightly Used for the Best Deals
Your truck plays an important role in your life and/or business. You rely on it to get to and from work and it can even be the main transport to ensure your business runs smoothly. The last thing you need to worry about is if your vehicle will start or not. Let our friendly staff help you find a used replacement battery for your truck. We have a variety of truck and car batteries to ensure you don't end up stranded. At Sturtevant Auto we offer quality used batteries, from early and late model trucks, at an affordable price.
Buy Car Batteries for Less from Our Salvage Yard
The average car battery has a 4-6 year life expectancy. In southeastern Wisconsin and northern Illinois, you can bet your battery's charge will start to fade closer to the early side of the scale. You already live in cold weather most of the year and living in an urban environment like the Milwaukee or Chicago area means frequent short trips.
You'll find the highest quality used batteries at Sturtevant Auto.
Both of these factors are brutal on your old battery.
If you're smart, you have your 2010 Ford Mustang or other sports car in storage for the winter. Unless you take precautions, this means certain death for your battery.
The average new car battery costs over $100. Come to Sturtevant Salvage and get gently used auto batteries for a 1997 Hyundai Sonata, 2008 Chevy S-10 Truck or any other vehicle. You won't need to keep a battery charger in your trunk anymore when you see how easy and affordable it is to buy what you need from our wide selection of brands, including Chrysler, Honda, Kia, Toyota, and many, many more.
We Recycle Junk Cars, You Save a Lot of Cash
Our scrap yard is filled with vehicles ranging from gently used to totally wrecked and everything in between. Your junk car is our OEM parts delivery service. Bring in your totaled vehicle and get cash for it, or have us pick it up and you'll still get cash for it. We want your old, used auto and will pay top dollar to get it!
Your neighbor's old junker could be the source of your replacement battery, tires, OEM headlights or gently used transmission. Tell your neighbor to get rid of an ugly eye sore and get cash today.
Contact Wisconsin's best junk yard, Sturtevant Auto Salvage Yard, to find a gently used battery today!
Baterías usadas para coches en Wisconsin
La esperanza de vida para un batería de coche es 4-6 años, pero en Wisconsin puede ser mucho menos por nuestros inviernos tanto fríos. Sturtevant Auto tiene una selección enorme de baterías para reemplazar las baterías que falla o están muertas en su coche.
Tenemos 11 acres llena de coches con OEM baterías apenas usadas. Nuestra gran variedad de maracas, incluyes Chrysler, Honda, Kia, Toyota y muchas más. También tenemos los mejor tratos por baterías para camiones.
Nosotros reciclamos coches de chatarra, compramos autos usados y tenemos una gran selección de piezas de coches.
Contacta la mejor chatarrería en Milwaukee, Sturtevant Auto Salvage Yard, para buscar una batería apena usada hoy.